Engineering, Controls, Staffing, Integration & Software Solutions for Industrial Automation
Smart Solutions for Modern Automation
Fives DyAG is an engineering and systems integrator specializing in controls, robotics, machine vision and software solutions for industrial automation markets. Headquartered in Michigan with nine other local offices across the United States and Mexico, Fives DyAG employs a dynamic team of degreed, field-tested, and highly qualified engineers focused on building smart automation solutions for the automotive, aerospace, food and beverage, pharmaceutical, packaging, logistics and consumer goods industries.
Fives DTS is a global staffing and recruiting firm offering scalable full service solutions to any of our clients staffing challenges.
Leveraging evolving technologies and strategic industry partnerships, Fives' innovative and full-service specialists have provided superior project successes in:
Custom Control Solutions
PLC, HMI, Motion Control (VFD and Servo)
Robotic Programming and Simulation
Machine Vision Solutions
Traceability Solutions
Custom Software Solutions
Project Management
Plant Maintenance
Installation
Production Support
Continuous Improvement Projects (CIP)


PLC and HMI programming
Controls hardware design utilizing
EPLAN and AutoCAD
Full Plant Support
Experienced in: Allen Bradley, Siemens, Mitsubishi, Omron, Telemecanique, Schneider Electric, Modicon, GE and others
Robotic program development
Creation of standards and templates
3D Simulation
Robot-guided vision
Risk assessment support
Support all major brands: Fanuc, ABB, Kuka, Mitsubishi, Motoman and Nachi
In-house vision labs
Feasibility Studies
Vision engineering support services
Turnkey systems, single or multi-camera
Integration support: Matrox, Allied Vision, Cognex, Fanuc iRVision,
Keyence, GVI, Dalsa & Datalogic
Distributor of: vision cameras, camera accessories, industrial PC's, industrial monitors and lasers
Project Staffing & Talent Services
We understand that every company has its own unique set of challenges and talent acquisition needs, which is why we offer fully customized solutions aimed at maximizing our responsiveness to your pain points. Whether you need staffing services, a workforce management program, or full-service engineering solutions – Fives DyAG is fully equipped to become your strategic partner. 
Our Team Offers:
Contract / staff augmentation
Contract to direct hire
Direct hire / executive search
Talent advisory services
VMS / MSP (FieldGlass, ZeroChaos, PeopleSoft)
Payroll services
RPO (recruitment process outsourcing)
Services to all of North America
Competitive benefits: medical, dental, vision, paid holidays, PTO and much more
Machine Vision & Data Traceability Solutions
TruIVS™ - Intelligent Vision Solution
TruIVS™ brings together industry trusted hardware, vision tools and image management software for optical inspection and quality assurance monitoring that requires multiple views. Through utilizing a GigE-supportive PC-Based system, TruIVS™ can offer scalable solutions for any type of industry, application and manufacturing environment at an industry-low price point.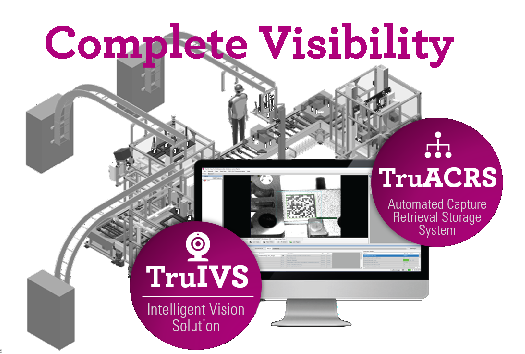 TruACRS® - Automated Capture Retrieval Storage System
TruACRS® is a complete image management system designed to provide automated capture, retrieval and storage capabilities. With automated tools such as maintenance, scheduling and alerts, TruACRS® offers a complete hands-off solution.
Notable Customers & Projects
General Motors
Ford Motor Company
FCA
Amazon Fulfillment Center
Caterpillar
Boeing
Tesla
Honda
Safran
PACCAR
Cummins
Topre America Corp.
Federal Mogul
Snap-Tight Aluminum
Daimler
Atlas Copco / Henrob
 Software design and startup for engine assembly line (72 stations) including robotics and vision
Hardware design, software design and startup for transmission valve body assembly line (56 stations) including robotics and vision
Software design and startup on a battery assembly line including end user support in Europe
Full design of refrigeration monitoring system including creation of a custom SCADA system
Managed the relocation of engine assembly line (100+ stations) including full system startup / debug in new location
Software design and startup for transmission sub-assembly lines (9 lines/ 100+ stations) including robotics and vision
High-speed rivet inspection (30+ industrial PCs and cameras)
Strategic Partnerships & Certifications
Quality requirements are paramount to providing efficient, class-leading client service. Our philosophy and dedication to implementing structured processes and systematic project management allows us to efficiently and effectively provide simultaneous engineering services. Fives DyAG's attention to detail provides you with assurance of compliance, reliable project completion and more importantly, a solution that fits.
Certifications
ISO 9001
ITAR Registered
CSIA Certified
AIA Certified System Integrator
Integra Certified
Siemens IFACS Certified
Industry Partners
Mitsubishi Diamond Elite Partner
Siemens Preferred Integrator
Cognex Partner Systems Integrator
Keyence Partner Systems Integrator
Fanuc Authorized Systems Integrator
An industrial engineering group with multi-sector expertise, Fives designs and manufactures machines, process equipment and production lines for the world's biggest industrial groups.
Fives' Automation business line is specialized in the design and supply of complete automated and integrated systems. With a strong foundation based upon renowned range of equipment such as Cinetic assembly solutions and washers, CFC conveyors, ETFA gantries and conveyors, and DyAG software and traceability solutions, Fives is recognized as the preeminent provider of outstanding automated solutions which are at the heart of its customers' efficiencies. With continuous improvement, the Automation business line is dedicated to establishing the highest standards for quality, technology, value and service.
Key industrial markets served include aerospace and defense, automotive and truck, heavy equipment, rail, energy, construction materials, marine, converting, postal and courier, prefabrication. With manufacturing and support operations strategically located worldwide, Fives and its Automation teams offer comprehensive lines of equipment and technologies including solutions for automated assembly, casting, conveying, core preparation, fastening, interlinking & robotic handling, parts finishing, pre-machining, processing, test & control and engineering & software solutions, which are supported by a range of comprehensive services (maintenance, spares, upgrading and retooling).